I don't know about you but I am very excited about the new release of Adobe CS4. I haven't even begun to fully learn the entire CS3 Suite but that's OK! I don't think anyone fully understands half the software that is on there computer. Some exciting new came in my email that may be of some interest to you.
Email Message:
New Photoshop CS4 Learning Center Coming Too!
What you may not know is that NAPP, in an on-going effort to keep its members on the continual cutting edge of Photoshop knowledge, is pleased to announce the launch of our brand new Adobe® Photoshop® CS4 LearningCenter on the same day!
This site will be available to the public for 60 days so bookmark it now and come back on the 23rd for everything you need to know about the newest incarnation of Photoshop.
Join NAPP and get a Special BONUS!
Join NAPP today and not only will you stay on top of all your Photoshop news and training, but you will also receive a BONUS issue of Photoshop User magazine completely dedicated to Photoshop CS4, FREE! This special issue is exclusive to NAPP members only and will not be available at news stands!
Plus, when you're ready to purchase CS4, your NAPP membership will save you 15% off the purchase price! That in and of itself more than covers the cost of your NAPP membership!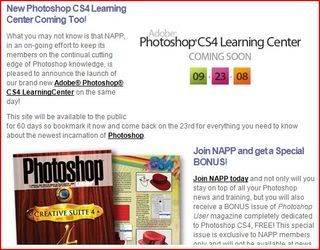 Go directly to the website and surf through it: http://www.photoshopuser.com/
Thanks for visiting thephotographer4you®
Thephotographer4you®
Repost This Article
Related posts